Angels And Demons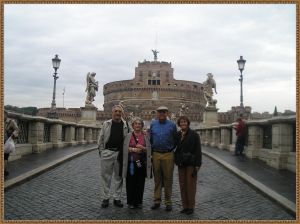 "Let angels guide you on your lofty quest!"
Dan Brown's Angels and Demons

For anyone who has read and enjoyed Dan Brown's best-selling novel, Angels and Demons, this tour will surely be an unforgettable experience!
We will retrace the steps of the novel's heroes: world-renowned Harvard symbologist, Robert Langdon, and his partner in anti-crime, Vittoria Vetra. The nearly impossible task with which the two are charged is to stop the murders of the preferiti, the Catholic Cardinals most likely to be elected as the next pope. In order to do this, Robert and Vittoria race through Rome in an effort to trap the assassin before he commits the next clerical crime at one of the Altars of Science.
Following the Path of Illumination in Rome and uncovering the Altars of Science, we will explore the incredible monuments described in Angels and Demons. Winding through the beautiful streets of Rome, we will visit the Pantheon, the Chigi Chapel in Santa Maria del Popolo, Saint Peter's Square, the Ecstasy of St. Teresa in Santa Maria della Vittoria, and Piazza Navona with its imposing Fountain of the Four Rivers.
The Eternal City will come to life in a completely "illuminating" fashion during this memorable adventure.
Number of guests:

1-4
5-8
9-12

4 Hour Tour

$550
$625
$725
This is designed as a walking tour. Our guests will be responsible for any extra transportation charges and/or entrance fees. If desired, Customized Italy can coordinate a car and driver service for this tour.