Highlights of the Uffizi Gallery and the Oltrarno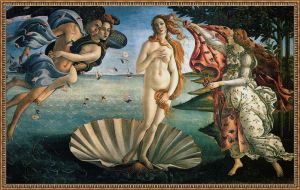 This private walking tour is perfect for our guests that would like a "taste" of some of the most famous artwork at the Uffizi Gallery. We will combine the visit to the Uffizi Gallery with a walk through the Oltrarno area of Florence – known for its artisan workshops.
We will begin our privately guided tour with a reserved visit to the Uffizi Gallery. The Gallery, one of the first public art museums in the world, was initiated by the prestigious Medici family. Included in the Uffizi's extensive collection are masterpieces by such influential artists as Leonardo da Vinci, Botticelli, Raffaello, Titian and Caravaggio. During our private tour, we will view the most noted works in the collection.
After the Uffizi Gallery, we will walk to the Oltrarno – literally "the other side of the Arno River" – crossing the Arno via the legendary Ponte Vecchio. We will then view the imposing Pitti Palace from the outside – this palace was once the residence of the wealthy and powerful Medici family.
The Oltrarno is considered by many to be the most beautiful and characteristic area of Florence. This quarter has many artisan workshops which maintain age-old traditions. As we stroll through the quaint streets, we will enjoy the heritage and history of Florence as it is thrives in this charming neighborhood.
* In order to save time and avoid long queues, Customized Italy will coordinate the reservations of the entrance tickets to the Uffizi Gallery.
Number of guests:

1-4
5-8
9-12

4 Hour Tour

$550
$625
$725

This is designed as a walking tour. Our guests will be responsible for any extra transportation charges and/or entrance fees. Reserved Uffizi entrance fees of approximately € 24 per person are not reflected in the rates outlined above. Customized Italy must collect the reservation fee at time of booking the tour & the balance is due directly at the Gallery on the day of the tour.

Depending on the time of our reserved entrance, the order of the tour itinerary may be modified. Please note that the Uffizi is closed on Mondays.