Borghese Gallery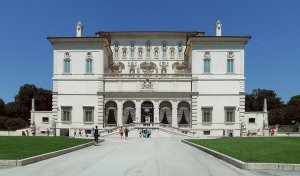 The Borghese Gallery is the birthplace of Baroque art. We will visit the edifice built by Cardinal Scipione Borghese in the early 17th century, after his uncle was elected Pope Paul V. The Borghese Gallery was not built as the Cardinal's residence, but to house his magnificent art treasures, once called the "queen of private collections in Europe." Unlike some other important private Roman art collections, Cardinal Borghese's collection is still largely intact and now a national museum.
This walking tour of the Borghese Gallery will introduce you to the sculptures of the prodigious Gian Lorenzo Bernini, the creator of the Baroque, exceptional paintings by Raphael, Titian, Caravaggio, Correggio, Bellini, Domenichino and other masters, which are among the contents of a building that is itself a splendid container. The Borghese Gallery was restored to its 17th and 18th century luster only a few years ago after more than a decade of renovation work.
Customized Italy will coordinate the mandatory ticket reservations at the Borghese Gallery.
Number of guests:

1-4
5-8
9-12

3 Hour Tour

$450
$525
$625
This is designed as a walking tour. Our guests will be responsible for any extra transportation charges and/or entrance fees.

Reserved Borghese Gallery entrance fees of approximately $25 per person are not reflected in the rates outlined above. These fees are collected in advance - at the time the tour is booked & reserved.