The Vatican (Reserved Entrance) - Michelangelo, Raphael and Bernini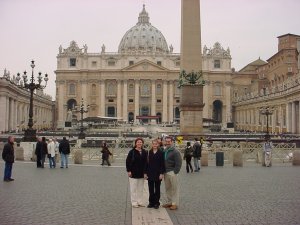 The Vatican was a true factory of Renaissance and Baroque art. In the Vatican Museums, which is home to the world's most important art collection, we will explore Raphael's frescoes in the private apartments of Pope Julius II. From there, we will go the magnificent Sistine Chapel with Michelangelo's inspirational ceiling of the Creation and his divine depiction of the Last Judgment. Also in the papal chapel, we will view the stories of Moses and Christ which were depicted by some of the most influential artists of the Renaissance - such as Perugino, Pinturicchio, Botticelli, Ghirlandaio and Rosselli.
Upon leaving the Museums, we will relish in the incredible treasures of art and architecture in St. Peter's Square and St. Peter's Basilica. From Michelangelo's moving Pieta and imposing dome to Bernini's baroque altar piece and embracing colonnade - this will certainly be an unforgettable adventure into the cradle of Christianity.
Number of guests:

1-4
5-8
9-12

4 Hour Tour

$550
$625
$725

This is designed as a walking tour. Our guests will be responsible for any extra transportation charges.

The Vatican Museum entrance fees & reservation fees of approximately $40 USD per person are not reflected in the rates outlined above. These fees are collected in advance - at the time the tour is booked & reserved.

Because of Vatican policies, we are not able to reserve entrance more than 60 days prior to the tour date. Entrance times are based on availability.

For guests that have more specific time requirements and needs, Customized Italy can coordinate a special VIP entrance to the Vatican Gardens, the Museums and the Sistine Chapel. Please inquire for further details on our Vatican VIP tour.

Please note that there is a very strict dress code for St. Peter's Basilica. No shorts, no bare shoulders and no miniskirts.