NEW - When In Rome - Do As The Romans!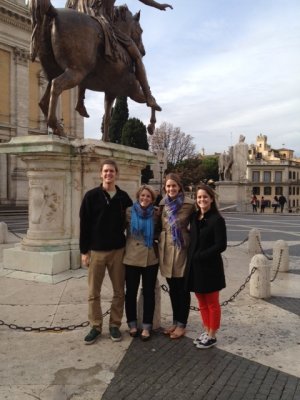 Enjoy an abbreviated version of our ever popular "Veni Vidi Vici" - Ancient Rome tour and eat like a Roman!
Here is a link to the tour description of our Ancient Rome tour:
Veni Vidi Vici - Tour Description
This tour will be abbreviated so that our guests may enjoy eating and drinking like real Romans do!
Guests will tour the highlights of the Eternal City's most outstanding landmarks:
The Colosseum
The Forum
The Campidoglio – Capitol Hill
The Pantheon
We will then proceed to the unassuming "backroom" of an historic Roman butcher shop. There we will relish in a private tasting of appetizing meats and cheeses accompanied by delicious red wine from the region.
Number of guests:

1-4
5-8
9-12

4 Hour Tour

$550
$625
$725

This is designed as a walking tour. Our guests will be responsible for any extra transportation charges and/or entrance fees.

This tour is not available on Sundays and the entire month of August.

Reserved Colosseum entrance fees and tasting fees of $50 per person are not reflected in the rates outlined above.

All fees are collected in advance - at the time the tour is booked & reserved.