NEW - "Solo" Ostia Antica (the other Pompeii)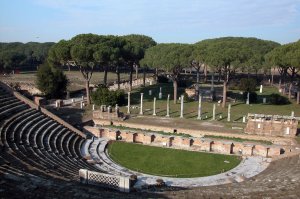 No need to travel all the way to Pompeii when Ostia Antica is just 15 miles from the Eternal City! Just like Pompeii, Ostia Antica is an abandoned Roman city – but much larger and less touristy!

Meet your private Customized Italy guide directly in Ostia Antica which is easily accessible via train from the city center of Rome (approximately 30 minutes).

Ostia Antica was founded in the fourth century BC as a military colony to guard the river mouth against seaborne invasions. By the second century AD, it had become a flourishing commercial center inhabited by upwards of 100,000 people, whose apartment buildings, theater (still used today), taverns, and grocery shops are still intact. Although Ostia now sprawls over 10,000 acres, around a main street that runs for more than a mile, it is still easy to imagine the local shepherds who for centuries sheltered their animals among its ruins, for they are an integral part of the tranquil Roman countryside. No modern houses, roads or telephone wires are visible on the horizon.

Guests will enjoy a two-hour private tour with their expert guide at one of Italy's most under-appreciated treasures.
Number of guests:

1-4
5-8
9-12

2 Hour Tour

$450
$525
$625

Our guests will be responsible for any extra transportation charges, entrance fees and headsets. Entrance fees are approximately 10 Euros per person and payable directly at the venue.

This is a two-hour tour at the excavation site - special pricing reflected above.

Please note that this tour is not available on Mondays.