There's No Place Like Rome - Rome for Kids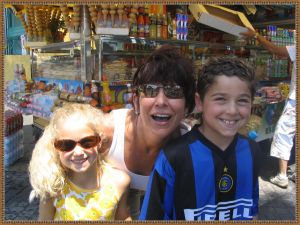 Rome is full of exciting sights and activities for young people. We will tailor a tour for your children, depending on their age and their interests. Most young people are intrigued by the curiosity of the Roman Forum and the Colosseum with its gruesome history. Kids are also fascinated by the ghoulish Capuchin Cemetery which is decorated with the bones of over 4000 monks! At the legendary Mouth of Truth (Bocca della Verita) kids can stick their hand in the mouth of the gaping stone face. As the legend goes, if you're a liar, your hand will be gobbled up. The Castle of the Angels (Castel Sant'Angelo) has a magnificent view of the Vatican City but it was once a dungeon - children relish in uncovering the secrets of this fortress. Rome also offers a vast array of parks, zoos, children's theaters and museums.
Allow us to design a fun-filled adventure for your kids!
Number of guests:

1-4
5-8
9-12

3 Hour Tour

$450
$525
$625
Our guests will be responsible for any extra transportation charges and/or entrance fees. If desired, Customized Italy can coordinate a car and driver service for this tour.