The Eternal City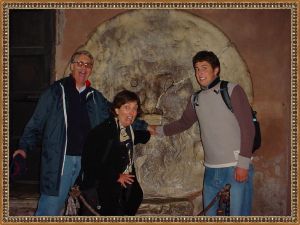 This full-day tour will enhance your appreciation of the Eternal City. This tour will start at the Capitol (the Campidoglio – the most sacred of Rome's seven hills) which is the political, religious and social center of ancient Rome. The terrace overlooking the Palatine and Roman Forum from the Capitol Hill will offer one of the most magnificent views in Rome. In the Roman Forum we will explore the ancient Roman temples and basilicas, the Curia, the Via Sacra, Caesar's cremation site and the imposing Roman arches.
Then we will view Rome's most outstanding landmark, the Colosseum, site of spectacular gladiator combats and executions. We will then take a short stroll along the Avenue of Imperial Fora with remains of the Augustus, Caesar and Trajan fora. In Piazza Venezia we will admire the enormous and impressive monument to the unification of Italy.
Through the picturesque Jewish Ghetto and the charming piazzas around Campo de' Fiori we will arrive at the Piazza Navona which is filled with Baroque treasures. A short stroll from this area is the majestic Pantheon – Rome's most well preserved ancient structure. We shall end this tour at the breathtaking Trevi Fountain where you will be able to toss a coin in the fountain to ensure your return to the Eternal City.
* In order to save time, Customized Italy will coordinate the reservations of the Colosseum entrance tickets thus bypassing long waiting lines.
Number of guests:

1-4
5-8
9-12

7 Hour Tour

$900
$995
$1195
This is designed as a walking tour. Our guests will be responsible for any extra transportation charges and/or entrance fees.

Reserved Colosseum entrance fees of $30 per person are not reflected in the rates outlined above. If desired, Customized Italy can coordinate a car and driver service for this tour.